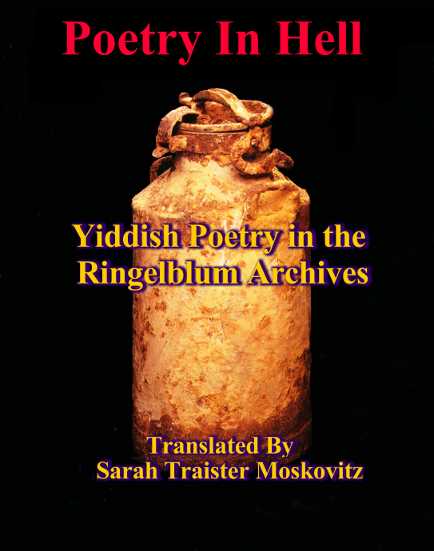 **************************************************************************
Poetry in Hell is a web site dedicated to the poets, both in the Warsaw Ghetto and elsewhere whose poetry, under the leadership of Emanuel Ringelblum, was secretly collected by the members of the "Oneg Shabbat Society", preserved and buried in the Warsaw Ghetto during the Nazi occupation.
The efforts of the Oneg Shabbat Society were to document life in the ghetto for future generations. The poetry in this website was found postwar, burried in milk cans and photographed onto microfiche by the Jewish Historical Institute of Poland in conjunction with support from the United States Holocaust Museum. I am grateful to both of these institutions for making these documents and the microfiche available to me for translation to English.
The poems are divided into five thematic groups:
You might also like to study additional introductory material by  Dr. Samuel Kassow and Dr. Michael Berenbaum, as well as the Author's Note.
We also provide a series of articles by eye-witness Rachel Auerbach on how the Ringelblum Achives were collected, deposited, unearthed, and restored.