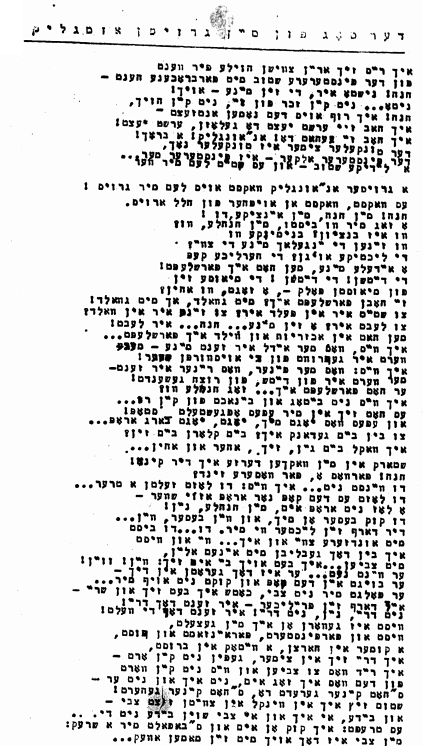 The Day of My Great Disaster
by Yitzkhok Katzenelson
I break into the four bare walls of my dark home
and I wring my hands —
Hannah is not here and my boys gone too!
Gone – there's no trace of them
Hannah! I call your name out loud,
I only just left them, just now in this house!
I just had them here! Oh terrible shame!
The dark room is darker yet
the dark closet darker still…
An empty home – and misfortune stands near me
and grows and grows bigger out of the voids without stopping
Hannah my Hannah my only one you!
Where are my boys, my Benzion? My Benjamin?
Their bright eyes, their beautiful heads
Oh my fine ones where have you been dragged?
The Germans! The Germans! The ugly sons of an ugly folk —
Oh say where? They have dragged you by force!
Do you stand in a field? Are you in a forest?
Are you alive my sons? — Hannah do you live?!
With cruel savagery they forced you away
I know the more gentle and noble you are dear ones
the harder the evil brutes treat you!
Hannele tell me where you've been taken
I cannot stand not to know where you are…
I cannot rest day or night
Something in me has finished. Stop!
And something chases me chases me downhill
Am I going Insane? Are my thoughts clear?
I waver when I walk here, and there…
And when I waver I see you as in film!
Hannah! Why oh why? For what sins?
Look at me; it is better to cry, cry…
You are with two of our boys
and I with Zvi – and I beg him to cry, cry
but he takes after you and will not…
He lowers his head and won't look at me.
And he won't do as I say – even if I beg him and yell –
You must be happier – you are three
No not three! You are the world!
My tent is barren, deserted, darkened, lonely and bare
Worry in my heart, pain in my chest —
I speak to Zvi and don't know what I said
and neither does he. No one spoke here
and no one hears! I sit mute in a corner
in another, sits Zvi —
It happens: I look at him, fear befalls me.
My Zvi, he has gone with his mother too.
His face isn't his, neither is his voice
a shadow remains here of him
I too am more with you than here.
I wander in the room and it's like I'm not here
Hannah — we're all with you… and …you
my dear know nothing of that!
Take Benyomke into the middle. No Hanale, you
you go in the middle and I'm by your side
Where are you going? Do tell me where.
Don't go so fast. Zvi and I go with you
We've come too late, Oh too late —
the train has gone off far, far, away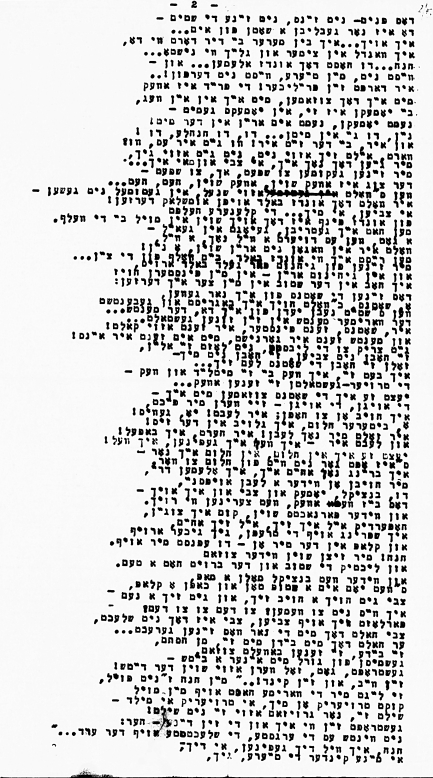 Had it not been for the noise and confusion
and had it not happened so fast
You would have seen us at Umshlag* when we passed!
Zvi and I… The smaller half of us too is in the teeth of the wolves.
They drove you and pushed you and hurried you
Oh God, had it taken a while longer
You would not be inside the freight car, Oh No!
You would have like me been torn from
the wolves teeth for a bribe, right out of Hell —
into another hell, my dark house.
In my sorrow I saw you inside of the house.
Those were your lingering shadows.
Oh shadows, I would have greeted you gladly
and given you blessing
when next to your shadows stood the real mentch.
The warm person in sunny form
another Hell
Your shadows are dark and you are so cold!
and you are nothing separate from them.
Go back to the loved ones, don't leave them alone,
Let them have their shadows near them…
I beg them, I wake their compassion
and the shadows of sorrow – they left…
Now I see your shadows together with you —
My eyes – my eyes are tearing
I start to hope you are still alive, yes sure!
A bitter dream. I believe in sweetness!
You must still live! You hear! I command!
And if you live – I will find you, I will!
Now I see you in dreams
It's often not far from dreams to what's real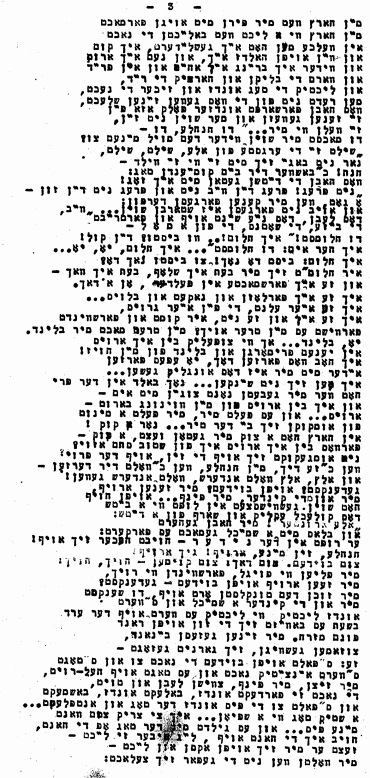 Now I bring you back home.
We begin to live again anew
You Bentzik Yomek Zvi and I —
The hardships are gone – away like smoke
Again in the evening I head back home
Excited with hope I get there in haste
I jump up the stairs and knock at the door
You open for me
Hannah, we sit together again
And bright is our home and the bread has a taste
And Bentzikl will draw a map
and the boys will fool around
Zvi will get up and make them play fair
You can depend on him
The boys have been whipped by fate, punished unfairly
God punish the German, his wife and child
My Hannah jumps up, puts her hand on my mouth
and looks at me sadly and gently says
"curse them but not so horrible as that
punished like me and your boys – now hear
don't wish that for worst for the cruelest on the earth"
Hannah, I want to find you at last
and my children, the dear ones – let it be fast.
(He recalls how in a previous roundup the Germans came to take away the Jews
and commanded everyone to come down the stairs to the street.)
But we went up high instead of down
and hid up on the roof.
All night we sat silently between life and death
And when the sun rose, the rays hit my shoulder.
* The place in Warsaw where people were loaded into trains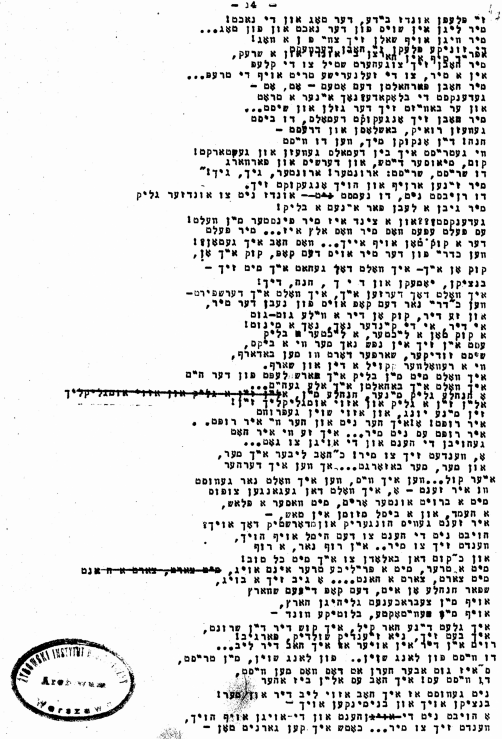 I moved it and then a ray hit my hand
and if not for the danger we all would have laughed.
We heard the banging, the shouting
the soldiers on stairs – held our breath
Someone fired a weapon
We looked at each other
You were calm, determined and bold
And you looked at me – if you only knew
how your look gave me comfort and strength.
(He feels guilt for not having looked at her and the boys when he and Zvi left home on the morning when the expulsion took place. He sees himself bringing her and the boys water and fresh shirts and something to eat – if only he knew where they were.)
One call and I come, just a call
I come to you right away loaded with all…
With tears of happiness in my eyes
with tender, tender hand
Oh bend down, lean your dark haired head
on my broken glowing heart,
on my painful bloodied wound
I caress your cool hair and kiss its part
I beg, not being guilty, forgive
I whisper I love you in your ear
you know it for long time—my comfort
But it's good to hear that which we know…
You know it! I did not know until now
how deeply I've loved you and more!
Bentzion and Benjamin too.
Don't raise your eyes to heaven.
Call me Hannele, call children —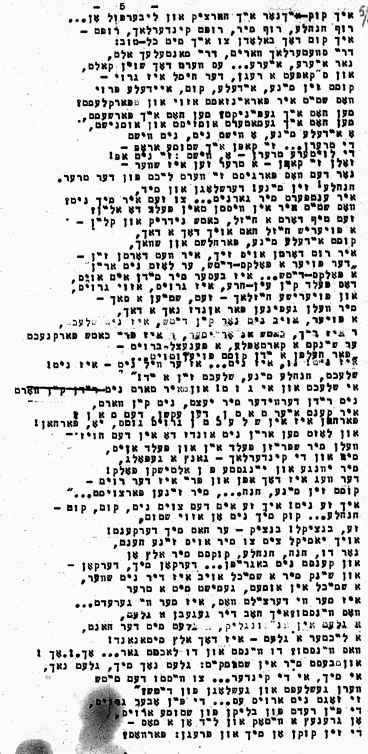 I come loaded with good things
three warm sweaters, three old coats
they are yours, yours and it's getting cold
and it's begun raining, the sky is gray.
Come gentle boys, come gentle wife
Why do you stand so alone and distressed?
Were you tortured? Were you shamed?
Did they hurt you for nothing at all?
Oh my precious ones – don't wipe your tears!
They fall mute – let them – as tears of another
are hard to see – but for the one who cries them
there is relief.
(He imagines finding a little shack in a field that belongs to a peasant where he can hide his family. He is aware that they will all have to move around from field to field because, if the peasants give them a potato or hides them they can be killed.
He imagines he speaks and his children recognize him. He tells the children they are young and strong members of an old people as they move from field to field. Hannah cries and the children ask "Why?"
He answers:)
We are spit on and shamed…
vanquished for nothing…
By people unworthy of our trash.
And me? Don't ask me I don't know why
Why my little children are taken away
Why they are tortured so – their mother
my gentle young precious wife
My Hannah, whose silences say so much
Your silences spoke to me like a voice
from which I learned so much…
I understood you more than someone who talks.
The one who talks little hears you and sees!
Did you see the disaster – that was coming our way?
Your silences calmed me, helped me believe
there would come better days
In silence you taught love and being free.
Now you drink out of the bitter cup
and I ask why? Why?
There are no better than you.
The worst of us killed mute
is better than the best of the killer brutes
is more heroic courageous than a German.
What is a German on Gods great earth unarmed
without bow and arrow, without a gun?
And if he is armed, his sins grow more wild
He feasts on the blood of woman and child.
The easiest war! The surest win!
The favorite victim for the spider is the fly
the sweetest bit for wild beast is the dove
Woe to animals who live to rob and kill those they can
Woe to that animal in the form of man
who destroy children and shoot the old,
kill little babies and rob the aged of their last numbered days
Who would extinguish the sunlight before its time?
To extinguish a person's life is a greater crime!
Germans and murderers – they laugh at that
therefore cry out in the horror of terror
whoever has conscience and tongue in his mouth:
A million German murderers for one Jewish child God!
For one Jewish house – destroy a whole city!
You have condemned us without trial or law,
You have destroyed all of us without cause,
Ruined our houses and ravaged our homes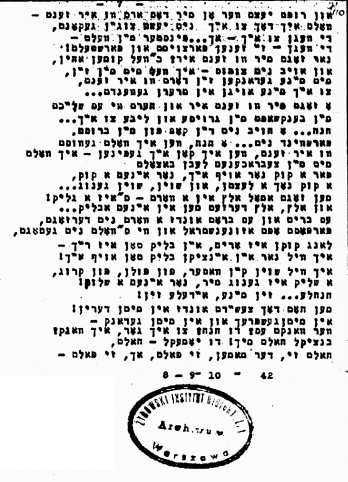 This has never happened before in this world –
without a why and without a when
Oh tell me where you are – I ask though I know
that asking is no use – I turn hot and cold…
And if someone called out to me the place where you are
I could not come to you – oh my darkened world.
The roads are all blocked, fenced and hidden
But say where you are and I'll come there if not by foot
you'll be with me – with my thoughts there where you are
To you my tearful eyes look.
Oh say where you are and hear how deep
longing and love to you slinks in
Hanah don't lift your head from my chest
Don't disappear – O Hannah if I only knew where you are.
If I could find you, I would pay with my broken life
for a look at you all, just one look
a last look and that's it -enough…
Sometimes everything can be said with one word- a joy!
and all, all can be seen in one look…one
We are tormented by a word left unsaid,
like a sunray that's sleeping and dawn cannot come —
A long look is poor, one look is rich –
I want just one, only one look at you all!
I'll not want all the water of a pitcher that's full
A swallow is enough for me – just one sip
Hannahle.. my sons, fine sons!
We were torn apart in the middle of things
in mid-conversation and in middle of thought
Who dares do this? Did you? Did I?
Benzikl hold me! – You too Benyomke – hold,
Hold her, your mother, she's falling, Akh she's falling—
August 9-10, 1942