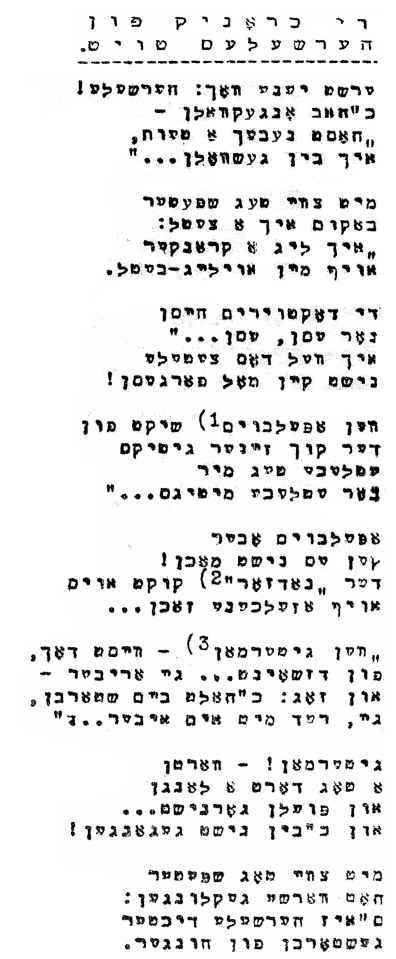 The Chronicle of Hershele's Death
by H. Goldberg (Y. Katzenelson)
Just last week: Hershele!
I was so happy to see you
"I'm afraid you're mistaken
I am sick and swollen …"
Two days later
I recieved a note from him
"I'm lying sick
On my bed".
"The doctors insist
you must eat, just eat…"
that prescription is something
I'll never forget!
"If Applebaum sent
some good stuff from his kitchen
for a few days for me
just for a few meals"
But Applebaum is unable
to do it!
The overseer would not
allow such things…
"If Giterman you know,
from the Joint…go over –
and say "I'm dying,
go to him, talk it over…"
"Giterman! – waiting
a day there is endless
and I'd not win him over…
and I did not go!"
Two days later
Warsaw was buzzing:
the poet Hershele
has died of hunger.

Right after he died –
someone told me
his swelling dissappeared
and bones came out.
The funeral was held
three days later
He was lucky –
the weather was lovely…
Come Hershele, Hershele,
come out of the casket,
in weather so fine
it pays to fast…
He never came out
and was not seen again;
he left behind
one thousand poems.
Hershele's little boy
said the kaddish –
new little tears –
May you (be) renewed!
They fell
on to the open prayer book –
clear pearls
from the thousand poems.
His little sister doesn't cry
she stands forlorn –
To whom Hershele
did you leave:
a thousand songs,
a wife and two children
and over the cemetary
this beautiful day?
H. Goldberg. (Y. Katsenelson)