A Letter and an Answer
by Kalman Lis
(Folk Theme)
I wrote you a letter
and no answer came,
I'm left all alone
with my mute melancholy.
Maybe – could be – I dare not ask
but a black crow keeps pecking,-;
your goodbye was forever
I'm erased from your heart..
I don't know… please forgive me
for my foolishness,
my strength ebbs in longing
for your tenderness…
When I'm sleeping, when eating
father, mother beg me: Freyde,
it would be better to forget him,
it would be better for you both!
Go and scream and cry alarm,
deaf walls and dead stones –
it was a sheep that warmed me
I have no other comfort.
So I write these lines to you
and my fingers tremble; –
maybe there, where you are, too
it's not easier for you.!.

I don't have any demands
and I don't want to make you sick,
believe me I'm tired of myself
of my longing and my worry.
Can you say – Heart stop feeling,
or, you my thought, cease your worry!
If I want it or don't want it
you're alive in my desires..
And now the days drag on,
like hissing snakes,
and don't ask me, please don't ask me,
if desires die away.
And the nights like black crows,
spread their wings out over me;
and with lips pale and blue
death winks at me from dull mirrors.
Only two three words, I ask you
just two short lines:
"to my love, my basherter
this is how it's there for me."
II
Answer
Dearest girlfriend in the village
with blue and tearful eyes,
for your breadth and depth of sorrow
I stand before you with bowed head.

I went away from you, my love,
to win a battle for us both….
all this I wrote down for you
and now I send his words to you
Something flamed in his eyes
hung on his damp eyelashes
and with final quivering
vanished and expired.
But take comfort there dear bride
in your pain and in your sorrow,
your basherter has fallen
for a great and deep love.
For the joy that lies hidden
in the dark grayness of today;
for a blue bright rayed tomorrow
with a red rising sun…
Like dew fresh and clear that's fallen
on a field sparkling with sun,
on his pillow suddenly
from your love letter he bloomed
And he asked me to write to you
these quiet last words:
"You always were and will remain
loved forever, my basherte!"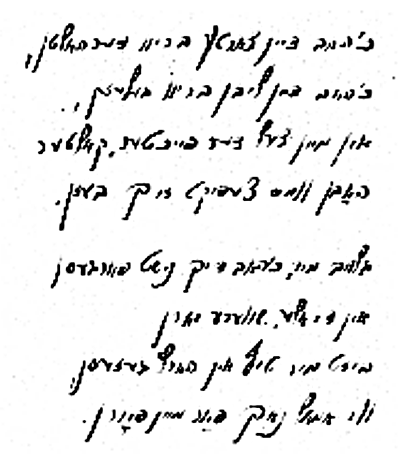 I've received your tender letter,
I have read your loving words,
and in my cell, damp and cold
came the blooming of white lilacs.
Believe me you are not forgotten
in all these years, so hard bereft
I've held you deep within my heart,
same as it was before I left.