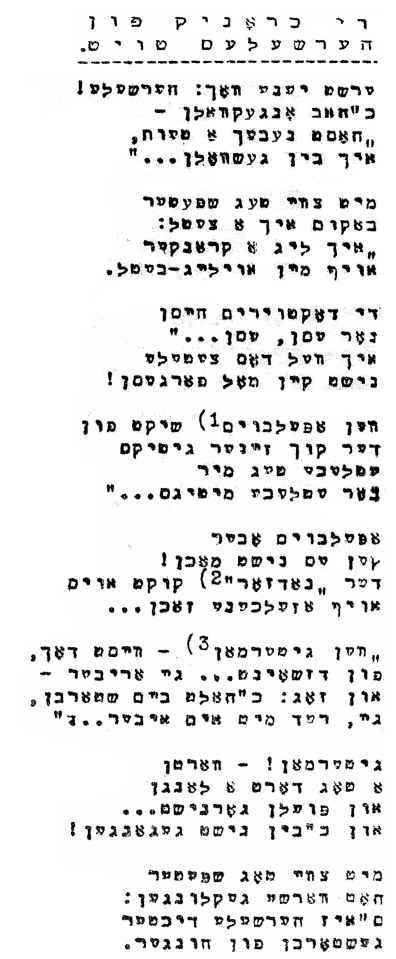 The Chronicle of Hershele's Death
by H. Goldberg (Y. Katzenelson)
Just last week: Hershele!
I was so happy to see you
"I'm afraid you're mistaken
I am sick and swollen …"
Two days later
I received a note from him:
"I'm lying sick
in bed".
"The doctors insist
you must eat, just eat…"
That order is something
I'll never forget!
"If Applebaum  (1) sent
some good stuff from his kitchen
for a few days for me
just for a few meals…"
But Applebaum is unable
to do it!
The overseer (2) would not
allow such things…
"If Giterman (3), you know,
from the Joint…go over –
and say "I'm dying,
go to him, talk it over…"
"Giterman! – waiting
a day there is endless
and I'd not win him over…
and I did not go!"
Two days later
Warsaw was buzzing:
the poet Hershele
has died of hunger.

Right after he died –
someone told me
his swelling dissappeared
and bones came out.
The funeral was held
three days later
He was lucky –
the weather was lovely…
Come Hershele, Hershele,
come out of the casket,
in weather so fine
it pays to fast…
He never came out
and was not seen again;
he left behind
one thousand poems.
Hershele's little boy
said the kaddish –
new little tears –
May you (be) renewed!
They fell
on to the open prayer book –
clear pearls
from the thousand poems.
His little sister doesn't cry
she stands forlorn –
To whom Hershele
did you leave:
a thousand songs,
a wife and two children
and over the cemetary
this beautiful day?
H. Goldberg. (Y. Katsenelson)
———————————-
(1) Applebaum was a yiddish journalist
who, in the ghetto, worked in the kitchen.
(2)  Manager
(3) Gitterman was co-director of
the Joint Distribution organization.