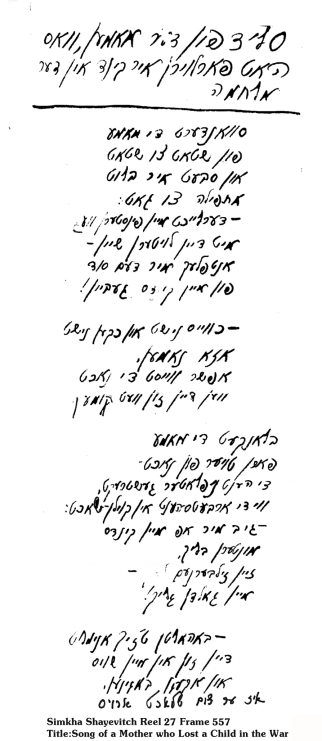 Song of the Mother Who
Lost a Child in the War
by Simkha Shayevitch
A mother is wandering
from city to city
And her blood is begging
a prayer to god:
Light my dark way
with your clear shine –
reveal the secret
of my child's bones!
– I cannot and know not
such a name,
Perhaps the night knows
when your son will come.
Mother gleams
at the gate of night –
waving her arms outstretched,
like workers arms in a coal mine shaft:
give me back my child's
cheerful look, his silvery (light) *-
my golden good fortune!
— Your son was once
hidden in my lap
and at dawn,
he went out to battle
* unreadable

Mother walks and keeps on walking
'til she comes to the battlefield
and her body burns from bloody woe
-where is my child, my only one, where?
The cannon answers –
its voice booming sorrow –
the rabbi and priest
have with God's word
on bruised hands
and the man in the gilded black coat
with words sweet as chocolate
stood man against man
and commanded them in the night:
"Shoot, Kill, aand Rape!"
Mother begs
of the blowing wind
of the blooming field
the howling dog
show me my child's
last fainting steps
his golden tear
and young boiling blood!
Mother walks and walks and walks
and the wind wails
on the strings of her heart
and in her flesh – the dog howls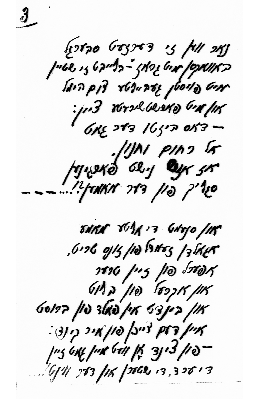 *this page appears to be a sequel or part of
"Mother Who Lost a Child in War" which was
found separately
Part 3
But when she sees the mound
overgrown with grass – she stands still
and with fists raised to the sky
and with gritted teeth:
– Is that you the God
of mercy and compassion.
Who begrudges
this mother's happiness?!…—
And the old mother takes
a bit of golden sand from her son's steps,
a pearl of his tear
and a crumb of his blood
ties them into a fold under her breast
the signs of her child:
– From now on my God will be
the earth, the stars, the wind!…