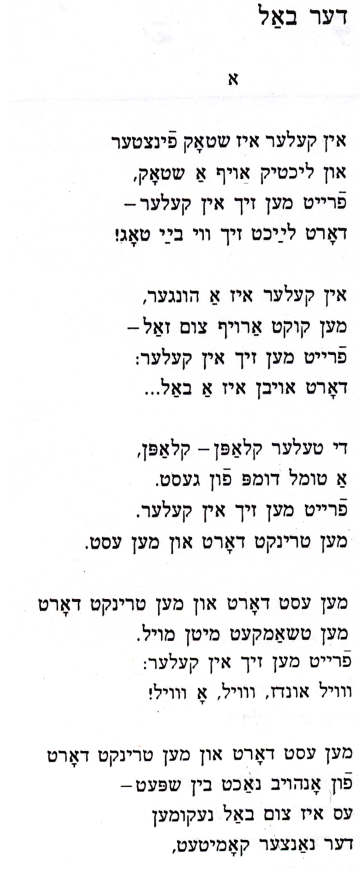 The Ball
by Yitzkhok Katzenelson
1
It's pitch dark in the cellar
and upstairs there is light,
they're happy in the cellar-
for where it is bright!
2
There's hunger in the cellar,
they look up to the hall-
they're happy in the cellar:
upstairs there is a ball…
3
The dishes clink and rattle,
a noisy din of guests
they're happy in the cellar
up there they drink and dine.
4
They eat there and they drink there
smack lips and lick their chops,
rejoicing is in the cellar:
because it's good for us!
5
They eat there and they drink there
from early eve 'til late-
the whole (ghetto) committee
has come for this ball date,.

6
The dwellers in apartments,
in choice ones small and large,
they celebrate for our sake
the poor ones of this house.
7
And there are others up there
invited guests so fine —
there's gladness in the cellar
for those who drink and dine.
8
Oh father dear, hold on, don't die
from on high brightness shines;
hear, hear: they're opening bottles,
up where they drink wine.
9
It's not a shot…a cork
a cork popped from a bottle;
hear, hear them toast L'Khayim"To Life"
with every brandy glass.
10
Oh please don't stare
and look so sad –
they're eating for our benefit,
they're drinking there for us.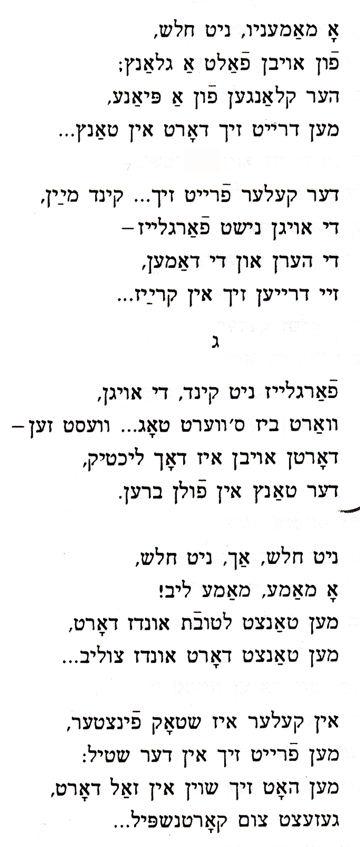 11
Oh mother dear, don't faint I pray,
the light from upstairs shines;
listen to the piano play,
they're twirling in waltz time…
12.
The cellar's happy now.. my child
don't let your eyes stare glazed –
the gentlemen and ladies,
are dancing round and round…
13
My child, don't let your sight fade
wait 'til dawn …then you will see-
there upstairs where it is so bright
they're dancing furiously
14
Don't faint ,oh no, don't faint
Oh mother, mother love!
They dance there for our benefit
they dance up there for us…
15
The cellar is pitch dark
in silence they rejoice;
upstairs in the ballroom
they've sat down to play cards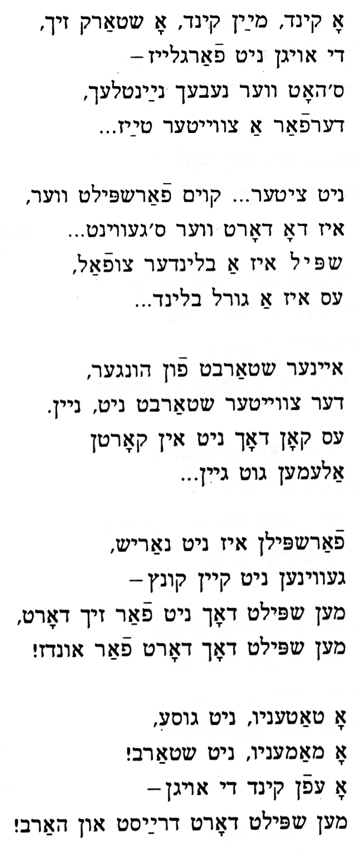 16
Oh child, my child, be strong now,
don't let your eyes stare blank-
some poor one holds only nines,
another has aces in hand…
17
Don't tremble.. when someone loses
there's someone else who wins…
play is just blind chance,
it is fate that's blind…
18
There's one who dies of hunger
the other does not, no.
It can't go well for everyone
when playing cards, it's so…
19
Losing isn't foolish,
winning is not a trick –
they don't play just for themselves,
it's for our benefit!
20
Oh father do not leave us,
Oh mother dear, don't die!
Oh open up your eyes child-
they play there strong and hard!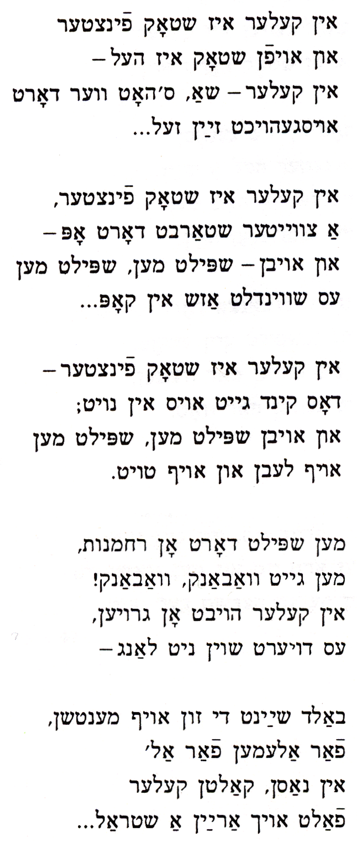 21
The cellar is pitch dark
and upstairs bright as day-
in the cellar's silence-sh..
someone's soul has flown away…
22
It's pitch dark in the cellar,
a second person's dead-
and upstairs they're playing, playing
so hard it spins your head…
23
It's pitch dark in the cellar —
the starved child draws last breath;
and upstairs they're playing, playing
they play for life and death.
24
They play there without mercy,
slam cards, winner takes all!
the cellar's starting to turn gray,
and now it won't take long-
25
Soon sun will shine on people,
for everyone, for all
and in the wet, cold cellar
there too a ray will fall…

26
And in the cold wet cellar
there too the light will come-
for there are no exceptions
made up there by the sun…
27
The sun did rise that morning,
floods the house with light _
the cellar is skipped over,
avoided by the sun…
28
Why? How does the sun know
that in the hour before,
in the dank ,gray cellar
there is life no more?…
29
The sun did rise
some time ago, some time-
the cellar lies in shadow,
she looks not to that side-
30
The committee, it is ten times
better than the sun!
for the committee understands
what now must be done…

31
Down into the cellar comes
See! the president himself!
he brings a whole ten-zloty
thanks to him…though too late!
32
The father has expired
Mother too is dead,
the child could not keep waiting
for a piece of bread …
33
The whole night was for nothing
the rejoicing quietly,
the Ball was all for nothing
for nothing the card play,
34
And when the night again
lowered from up high-
silence was in the cellar
and upstairs as well.
35
No light came pouring out
from windows bright with shine;
and no one was eating
and no one was drinking wine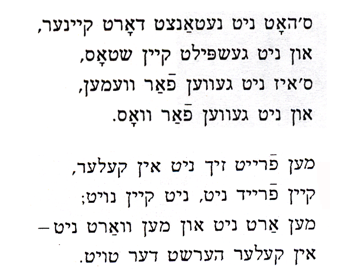 36
No one there was dancing,
and no one there played cards,
no one left for whom to do it,
there was no reason why.
37
No one rejoices in the cellar,
no joy, no need, no dread
no one cares and, no one waits-
the cellar is ruled by death.